Hoffenheim, RB Leipzig & HSV set to compete for the honour of being Germany's most hated club again this year
14th September 2017
Hoffenheim fans see the funny side of the uproar surrounding their club and Leipzig, holding a banner up stating "we want our throne back" as Germany's most hated.
It's curious that, with a record 27 German domestic league titles, Bayern Munich are not even close to the most resented club in Germany. In the U.K., green eyes have often been shot at Manchester United, Manchester City and Chelsea for the success that has come with wealth. Fans of other English domestic teams cheer the opponents of our successful clubs in Europe namely for that reason. We tend to resent success.
Bayern Munich aren't exactly popular across Germany,  indeed they're far from it, but they're also a long way from the level of vitriol directed at the likes of RB Leipzig and Hoffenheim, two relatively new clubs without the history of the Traditionsvereine (tradition club) that many German fans respect. Hamburg, meanwhile, crashed out of the German cup this weekend to lowly Osnabrück. The utter abjectness of the performance on Sunday was reinforced by the fact they lost to their 3rd division opponents who played with 10 men after a red card in the 22nd minute. This is not a surprise – HSV lost 3:2 to Carl Zeiss Jena in 2015 and have consistently flirted with relegation since 2014. They have become to the Bundesliga what Sunderland were to the Premier League . It seems now like a matter of time before the inevitable.
Pride In Ownership & History
Whilst Hamburg fans are ridiculed for the appalling way in which the club is run (no fewer than 16 managers have come and gone at the Volksparkstadion in the last decade) the anger towards Hoffenheim and Leipzig is quite different. Over in Germany, fan ownership is not just seen as beneficial, it's the law. The 50+1 rule ensures that external investors cannot have the majority of voting rights at a club. That's the theory, anyway. The likes of Bayer Leverkusen and Vfl Wolfsburg have had huge backing from corporations such as Bayer & Volkswagen, allowing them to invest in talent such as Hakan Calhanoglu & Julian Draxler in recent years. These teams are viewed with some derision, yet when, in the year 2000, the founder of software firm SAP invested in Hoffenheim, a club located in a village in South-West Germany with a population of 3,000, German football was about to change forever.
Dietmar Hopp has led a pretty eventful life. He's a hugely successful businessman, bought a spa resort from no other than Sean Connery & built a stadium for Hoffenheim football club worth €100m. He's obviously got a few Euros pocket change. So much so that the alumni of Hoffenheim boast of the likes of Demba Ba, Roberto Firmino, Kevin Volland, Luiz Gustavo & the once prolific Chinedu Obasi.
Dietmar Hopp
The level of money that Hoffenheim were afforded was met with venom, particularly from the likes of Hans-Joachim Watzke, CEO of Borussia Dortmund, who stated that, "it would be a shame" if clubs such as Hoffenheim were allowed to compete. There were even suggestions that in 2008, when Hoffenheim first won promotion to the Bundesliga, that they would not receive their license from the DFB, Germany's football governing body.
Fans across Germany voiced their displeasure, particularly Dortmund fans who had witnessed their beloved BVB whiskers away from financial ruin in 2005. Indeed, the atmosphere between Hoffenheim and Dortmund deteriorated so much that loudspeakers were placed next to Dortmund fans to drown out the whistles and chants of derision at Hoffenheim's ground.
Julian Nagelsmann watching his team in action
For all their faults, at least in the eyes of many fans of traditional clubs, Hoffenheim have somewhat redeemed themselves. After many recent years of flirting precariously with relegation (Watzke's champagne still remains on ice) they promoted Julian Nagelsmann to head coach. The 28 year old guided Hoffenheim to safety in the 2015-16 season, before leading them to a miraculous 4th place a year later. The emergence of young German talent such as Niklas Süle & the development of Sebastian Rudy (both now sold to Bayern Munich) may have helped to soften the hatred shown towards them. However, it is far more likely the case that Hoffenheim have been able to slip somewhat under the radar over the last year as a result of a new enemy of the German football state – RB Leipzig.
The Red Bull Furore
Germans are, rightly, proud of their footballing heritage and prowess. This has largely been built from the backs of fans. 11 of the top 30 highest average crowds were to be found in the Bundesliga and Bundesliga 2 (a notable mention for Stuttgart).  For the majority of football fans within the central European country, the game is nothing without fans. Indeed, one banner, at a protest from Bayern Munich fans against Arsenal ticket prices, read simply "without fans, football is not worth a penny". This great support has allowed German clubs to invest in the highest standard of youth facilities. The end product has seen talented youngsters such as Timo Werner and Max Meyer recently break in to the national team, with Werner in particular looking likely to stay for many years to come.
The Red Bull Arena on match day
The production line of talent was built on the backs of traditional clubs. The fans have paid for a quality of football over many years and it is the fans who are at the forefront of the Bundesliga. The 50+1 rule was brought in to stop commercialisation of the league, with many proponents of this law fearful that profit, not supporters, would become the main concern of the top brass at each club.
Bayer Leverkusen & Wolfsburg have both received signifcant backng from pharmaceutical giants Bayer & Volkswagen respectively. They have been the subject of much ire and anger from across the board & often referred to as "plastic clubs". They have, however, roots steeped in history, with Leverkusen in particular noting that Bayer was an integral part of the club's culture.
BayArena, home of Bayer Leverkusen
This is significantly different from Red Bull Leipzig, or, to give them their now official title, RasenBallsport Leipzig. The team is only eight years old and only gained a license to play competitive football after Red Bull bought an amateur team license from another club, SSV Markranstädt. Dietrich Mateschitz, co-owner of Red Bull, had his wish. He had long pined for a footballing project in Germany and now Leipzig, with a population of 500,000, provided the perfect opportunity for Germany's first properly commercialised club.
With teams already deployed in Austria, Ghana, Brazil & the USA, Leipzig became the company's fifth project. The commercialisation of the club was further reinforced with the acquisition of the Zentralstadion in 2010, which saw the 44,000 capacity stadium swiftly renamed as the Red Bull Arena. Suggestions reported in the local media indicate that plans are in the offing for an 80,000 seater stadium to be built to the North of the city. 100 million Euros were planned to be pumped in to the club from 2010-2020. This level of financing saw opposition swept easily aside, leading to promotion to the Bundesliga in 2016, a mere 7 seasons after their founding.
Watzke has once again voiced his opinion, talking of a "culture clash" between commerce and traditional clubs. He has been joined by Heribet Bruchhagen, chairman of Eintracht Frankfurt, in calling for commercialised clubs to face stricter rules from the German FA, the DFB. Whilst some footballing chiefs have been vocally critical, organised fan groups from across Germany have taken their distaste of Leipzig to a new level. Friendly matches against Stuttgart, 1860 Munich, FC Union Berlin and others have been cancelled as a result of fan protests. In 2015, Karlsruhe ultras stormed the Leipzig team hotel in a frenzy of violence after sending threatening letters to the leaders of Leipzig fan groups if they traveled to support their team.
Protests against Red Bull from the infamous Yellow Wall in Dortmund
Whilst the fans have made their point perfectly clear, others have given the Red Bull experiment praise. Wolfgang Niersbach, President of the DFB in 2014, stated that traditional clubs have not been successful for years and that "nobody should complain if a different approach is taken" which may lead to success. Klaus Allofs, a former national player for West Germany, was envious of the project but also claimed it was good for German football, with Beckenbauer claiming that Leipzig could challenge Bayern in 35 years for German footballing hegemony.
The club has also provided an injection of cash for other local clubs such as FC Sachsen Leipzig, who sold their youth team to RB Leipzig, allowing them to remain in business. 70% of Leipzig residents, according to a local media poll in 2016, see the project favourably.
An exciting season beckons for the East German outfit. A foray in to the Champions League (after eventually gaining the permit to play in Europe's elite competition) will be a great test for the likes of Werner, Forsberg & the now Liverpool-bound Keita. Whatever happens over the coming nine months – RB Leipzig will be sure to continue to divide opinion.
Hamburg – The Last Dinosaur
Hamburg, or HSV, are the only club that has never been relegated from the Bundesliga. A clock in the Volksparkstadion marks the time since the inception of the league in 1963. They are a traditional club, markedly different from Hoffenheim & Leipzig, yet the level of vitriol directed towards them is on a similar level. Despite a history that boasts a European cup, six league titles & three cup victories, the club has slowly become a laughing stock, with the most recent major honour coming in 1983.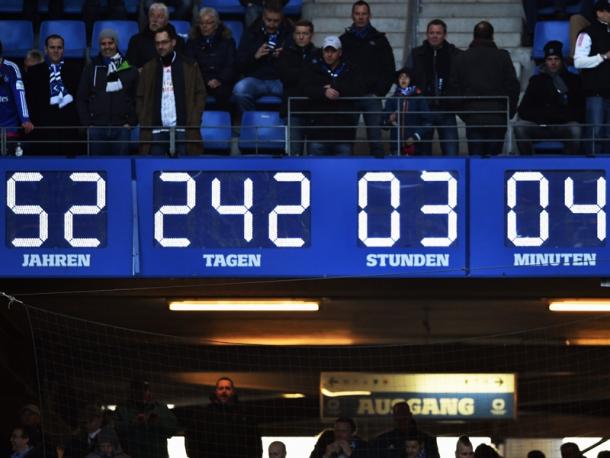 The HSV clock, ticking since 1963
Since the defeat to Fulham in the semi-final of the 2009-10 UEFA cup, with the final held at the home stadium of HSV, the club have been in an almost terminal decline. The firing of Bruno Labbadia, who led the team to a semi final & seventh place position at the time of his demise, came just three days before the aforementioned defeat to Fulham.
The club have since gone on to hire and fire Thorsten Fink, Bert van Marwijk, Mirko Slomka, Josef Zinnbauer, Peter Knäbel and Bruno Labbadia (again). And that's not even including interim managers. Markus Gisdol currently holds the poison chalice and whilst two victories from the first two games of the 17-18 season mark a brilliant start by HSV's standards, it won't take much for Gisdol to start feeling the pressure. Indeed, it's a miracle by their standards that the manager was not fired for the first round cup defeat.
It appears that the reason fans of other clubs vehemently throw their weight behind HSV's demise lies in the way that the club is run. Over in the Premier League, we are used to ridiculous rumours surrounding managers. Frank de Boer & Slaven Bilic appear to be circling perilously close to receiving their P45s after just three games of the current season.
We have already seen that German football fans tend to reject the commercialisation of football and the way that it is subsequently run. The HSV board, with Jens Meier now at its head, has encountered financial difficulties so extreme & over such a lengthy period of time, that the only reason they are still afloat is a result of Klaus-Michael Kühne, co-owner of Kühne-Nagel, who has pumped millions in to the club.
Kühne has saved the club financially, and although only officially owning 17% of the club, his power in the corridors of the Volksparkstadion runs deep. Although rescuing the entire club from financial ruin, he has also caused a serious number of problems. Just recently, he labelled the Leeds-bound Pierre-Michel Lasogga as a "dud". He has demanded that HSV should be able to run itself financially, and so his patience with managers wears thin quickly.  In essence, he runs the club like a business, with fans losing out. The sales of Hakan Calhanoglu & Son Heung-Min reflect this.
Son

Heung-Min

& Hakan

Calhanoglu

were both sold to Leverkusen 
Kühne's influence on the club isn't the only reason there are numerous articles calling for the relegation of Hamburg on mainstream outlets such as die Welt. They also play absolutely terrible football. In fact, that's probably an insult to those who play terrible football (I'm looking at you, 2009 Stoke City). Johann Djourou partnered Emir Spahic for two years in a row with disastrous results. Although they are now both out of the club, a lack of investment forced managers to play with two below-standard, ageing defenders. Lasogga showed glimpses of talent, but is slow and lethargic. Nicolai Müller, a big-money signing from Mainz, has led an injury plagued time in Hamburg, recently scoring a goal before ruling himself out for 7 months in the celebration. It's all part of the Hamburg malaise.
A restart is needed for HSV. In many ways relegation may be a blessing in disguise. German football fans across the country are bored of the continuing HSV scandal. No money, no leadership, no good players. The clock keeps ticking, yet as one German journalist put it – "it's just annoying now. The time is up".
The mascot of HSV is Dino the dinosaur. It's feeling like the leadership of this club remains in the dark ages in comparison to the rest of the Bundesliga. They either adapt now or end up facing another year of relegation struggles. The only competition they are in any danger of winning is Germany's most hated club.